FIVE STAR LIVERY FOR COMPLETE EQUINE HAPPINESS
About Elite Equine Livery
Managed by up-and-coming International Event Rider, Annieka Bacon, Elite Equine Livery leaves no stone unturned in their quest to treat all horses in their care as total individuals. Client's horses range from youngsters requiring breaking and educating to seasoned hunt, event and competition horses.
North Lodge comprises almost 1,000 acres of private pasture and arable land. Once home to National Hunt racehorses, the facilities lend themselves perfectly to producing horses fit for purpose.
In addition to her role as Equine Manager, Annieka (pictured) also trains and competes her own select team of event horses.
She has gained an enviable reputation in this sphere and now competes on the international circuit. She is trained by BE National Coach and Junior Team Coach, Miss Caroline Moore FBHS (jumps) and by Mrs Tracy Woodhead (flat). She has previously worked for event turned dressage rider, Miss Ruth Edge and also four-time Olympian, Mr Richard Davidson.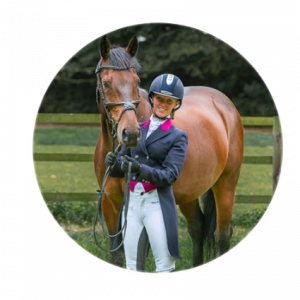 Facilities at North Lodge
The facilities at North Lodge are unrivalled and include:
15 airy, indoor Monarch stables
Large wash box incorporating rubber floor and hot horse shower
Individual all year turnout
Horsewalker
XC schooling fences
Show jumps
1,000 acres of off road riding with hills
Outdoor manége (40m x 20m)
Indoor lunging / loose schooling arena complete with lights and an irrigation system
900m "Softrack" gallop with a 150m incline
500m all-weather oval canter track
Grass gallop
Hydrotherapy cold water spa
In-house RAMP qualified Veterinary Physiotherapist
Equine solarium
DEFRA approved horse transport
24 / 7 security including CCTV and electric gates
Feed and nutritional advice fom Sarah Rutter of Baileys Horse Feeds
CONTACT ELITE EQUINE LIVERY
Please contact Elite Equine Livery to discuss your horse's requirements and for a no obligation quotation.
If your enquiry is urgent, please call Zoë on 07771 890 948 or call Annieka on 07976 184 178.